This post is all about natural cleaning products for migraine sufferers.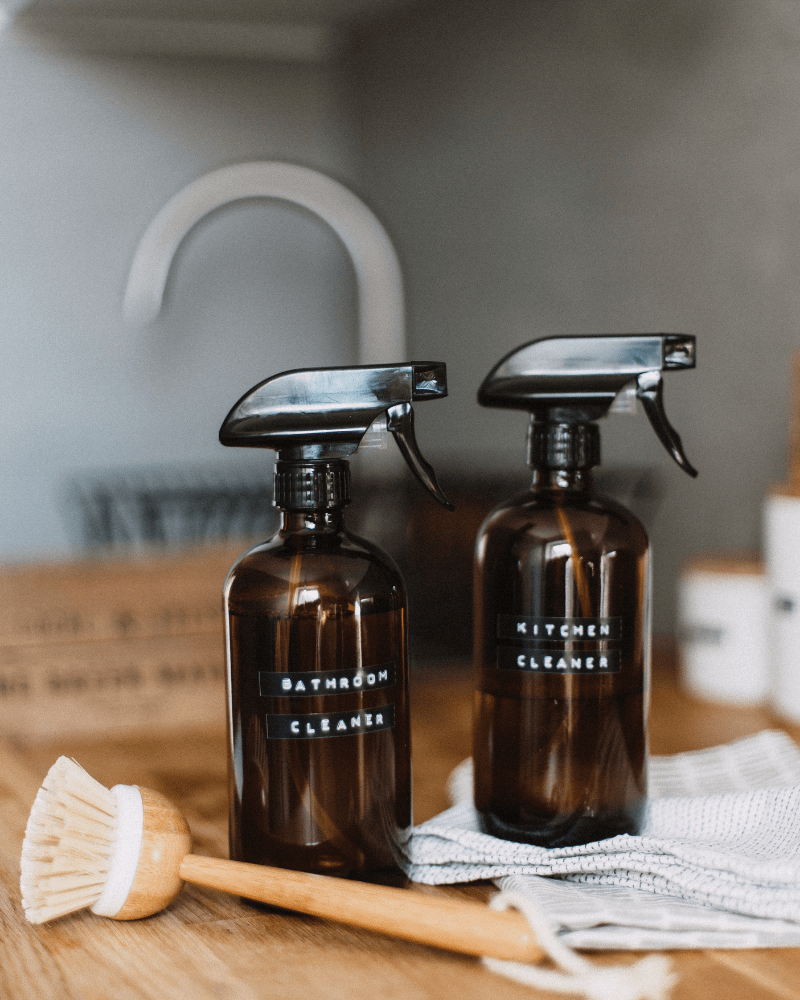 It's Saturday night. You're dressed to the nines waiting for your friend to pick you up for a girl's night out at a local restaurant.
You're soooo excited but as soon as you step in the car you're hit with every migraine sufferer's worst nightmare. A car full of perfumed ladies and the world's most powerful air freshener plug-in scented "Tropical Paradise". With all the windows rolled up.
You tell yourself, it's ok… it's just a short ride to the restaurant and continue to breathe through your mouth in the meantime.
You arrive for dinner only to be greeted by freshly mopped pine-sol floors and a faint whiff of dishwashing detergent you can smell all the way from the bar as you're seated.
FML.
Migraines suck. 
If you've ever had one you know how absolutely excruciating the pain is. And when it's a chronic condition, it totally changes the way you live your life.
The worst part is that people who don't have migraines don't understand. They may think, "Hey! You look fine…Have you had enough water to drink today?!"
Migraines are a poorly understood neurological condition and oftentimes confused with regular headaches. But massive headache pain is only one of many symptoms that accompany the full-body condition that is migraine (nausea, vomiting, aura, body aches, stomach upset, dizziness to name a few more). And the pain can last anywhere from 12 to 72 hours and be totally incapacitating.
I've had migraine headaches since childhood. Thankfully I've uncovered a lot of my triggers over the past two years (farewell caffeine, chocolate, and alcohol) but there are still so many triggers completely out of my control.
 Weather changes, fluorescent lighting, other people's perfumes, and restaurants that use strong chemicals for cleaning to name a few. Even walking through a department store or the cleaning aisle of Target requires holding my breath.
I'm hyper-sensitive to fragrances, known as osmophobia, which has forced me to find the best natural cleaning products that aren't migraine triggers. That usually means something fragrance-free, eco-friendly and without a bunch of harsh chemicals. If you have a friend or loved one with any type of chronic pain or autoimmune condition, skip the fragrance when you're going to visit. It makes a huge difference.
These are the best natural cleaning products I've used over the last few years that keep my migraine triggers at bay and help me live as pain-free as possible.
Best Natural Cleaning Products

I love this dish soap! I don't have a dishwasher and I cook so much at home so having a natural dish soap is super important.
Once a month I have a cleaning person come over and I realized every time she was here cleaning I would get a migraine.
The culprit was the Dawn dish soap she would bring with her. I could smell it in the bedroom all the way from the kitchen because I have the nose of a bloodhound.
Once I figured that out and had her switch to my natural unscented dish soap things became a million times better and that migraine trigger came to an end.
Thank God for Trader Joe's. I fell in love with these lavender dryer bags about a decade ago. I bought a portable dryer recently (best thing ever if you're an apartment dweller) and it came with a set of wool dryer balls. So I alternate between the two or sometimes or if I'm feeling wild I'll use both.
If lavender is a scent you cant handle then I would use these wool balls for faster drying time and wrinkle reduction instead. Side note: if you live near a Trader Joe's buy these dryer bags in-store, they're a bit more affordable than on Amazon.
I use to launder with whatever was around the house but now having store-bought brands like Tide and Downey anywhere near my skin sends me into a tailspin of pain.
I'm so grateful for this laundry detergent that has zero fragrance! It's a lifesaver. I can't sleep in freshly washed bedding that has any kind of scent so this right here is the way to go. Switch to this if you have any kind of allergies, autoimmune disease or chronic pain condition.
This one maaay be controversial but I use it with no problem. This cleanser does have a woodsy type fragrance to it but it doesn't set me off.
My rationale is that because it's a scent my system is not too familiar with or maybe because cedarwood and sage are both found in nature, it doesn't trigger migraines for me at all when I do countertop wipe downs with this all-purpose cleaner.
You can use this for so many things! Here's how I use it.
I put it in the toilet bowl and let it sit before scrubbing.
I do the same with my bathtub.
I also use it to clean out my tea kettle.
If you drink coffee its acidity makes it great for knocking out old rust stains so you can use it to clean your coffee pot as well. I also like to throw it in with my white bed linen when I want to remove any dinginess and brighten things up a bit.
And I use it as a glass, mirror, window cleaner because Windex equals death in my world.
Another super basic household item but baking soda is another all-natural cleaning product that works wonders.
I typically buy it in bulk but I also love this version that turns it into a little powder sprinkler. Just sprinkle this baby in your sink, tub, carpets, oven door, laundry to whiten whites too. Let it sit for 5-10 minutes to really do its magic and then wipe or scrub away with water.
Baking soda is great for cutting through grease so it's great for inside the kitchen. Just mix with a little bit of water and make it into a paste. Honestly, you do NOT want to mix baking soda with vinegar. It just makes it into water basically!
This post goes through the chemistry of that little-known fact. If you need to clear a drain, then you can mix it with vinegar and chase it with boiling water but that's the only time you'll want to mix the two. Basically always have baking soda in bulk in your house.
This, technically may not classify as a traditional natural cleaning product but what's more important than clean air! I miss scented candles but I don't miss the headaches they caused.
This keeps my house smelling so fresh and so clean. It's also good for your health. Air fresheners, plug-ins, Febreeze are all nightmares for a migraine sufferer.
If you have any of those items in the house throw them out ASAP for reals! I love the Levoit air purifier. I bought it last year when fires were raging here in California and the air quality was horrendous. Within 24 hours of running this in my apartment, I could literally feel the difference, it's that effective.
It's the best-priced air purifier and I think it's worth it to spend a little bit extra for something that will last you years to come.
You can use this for literally EV-ER-Y-THING. One bottle will last forever because you dilute it majorly, it's super powerful.
Just get a glass spray bottle, add a bit to water and you can use it as an all-purpose cleaner. I like to use it with hot water to mop the floors.
On a side note: I don't like to use Dr. Bronner products on my skin. I know people use castile soap as a body wash or shampoo but I remember reading somewhere that it can actually throw off the PH balance of your body.
Years ago I brought a mini bottle of Dr. Bronner's with me on vacation and by the end of the week, my hair and skin were so dry! The only product change was this soap. So yea, I can definitely recommend it for cleaning your house but I personally don't use it for cleaning my body.
Another seventh-generation product for the win! This entire line is awesome. I've never been disappointed by anything in the seventh-generation product line. The good thing is you can find them on Amazon or buy at Whole Foods and I'm pretty sure even Target carries this all-natural brand.
They're also an eco-friendly company so you can feel good knowing that you're taking care of the planet when you use this brand. This company is what I use for my dish soap (the first recommended product on the page) and also what I recommend as a Clorox bleach alternative.
It's basically hydrogen peroxide but with a small amount of detergent mixed in. You can use it as a laundry detergent for whites or for cleaning surfaces without the damage that bleach can do.
I hope these natural cleaning products help reduce any migraine triggers you have hanging around the house. I take care of myself by making sure I don't use cleaning products that can trigger any of my migraine symptoms.
My home is a fragrance-free zone and I ask anyone who comes over to not wear any perfume.
It might feel uncomfortable to make that request but you and your well-being are SO worth it. If they love and care about you they should have no problem skipping perfume to spend time with you.
Let me know what your favorite natural cleaning products are in the comments.
MORE FROM THE CARLA PROJECT
Nine Life-Changing Spiritual Books
Microlink Hair Extensions Review
Disclosure: If you buy something through my links, I may earn an affiliate commission, at no cost to you. I only feature things I truly love here. Thank you for your support.