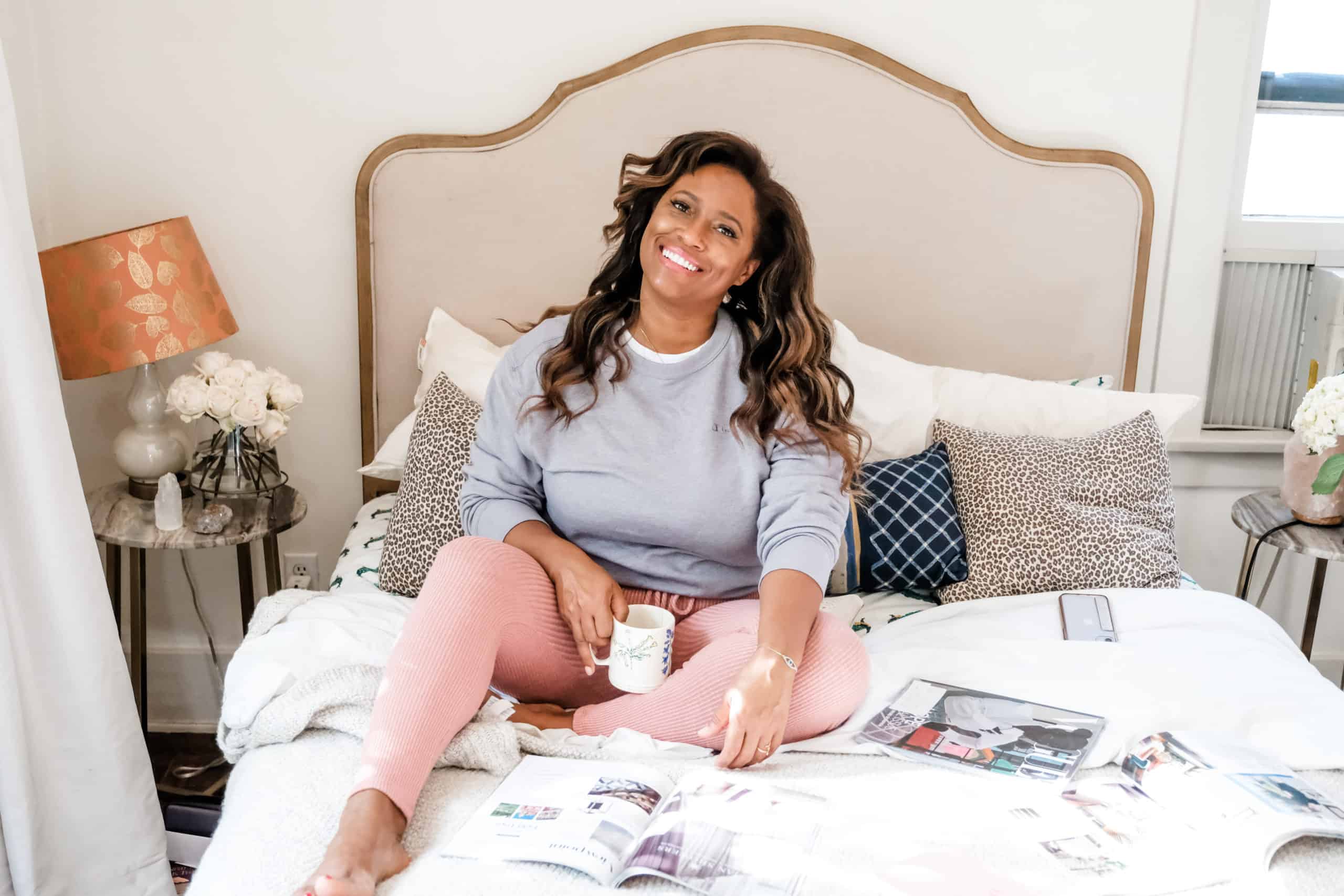 Hi there! I'm Carla. I started this blog as a creative outlet during the quarantined fall of 2020. Wow, that sounds so epic.
I wanted a space to document, connect, and hopefully inspire others to go after all the dreams, projects, and things we say we want to be, do, have, and experience.
I love a good challenge and the idea of making small but powerful changes one tiny life, home, style, health project at a time.
I currently live in a 600 sq. ft apartment at the base of the Hollywood Hills with my Aussie Cattle mix Samson. Although my space is on the small-ish side, it's way too easy for things to get in total disarray around here. I'm far from a hardcore minimalist but I have minimalistic tendencies as I don't like feeling overwhelmed or weighed down by a lot of "stuff". I'm also constantly redecorating and seeking ways to make my home more functional, streamlined. beautiful and organized and look forward to sharing what works. 
I'm super into personal development, healing, wellness, and recovery. I've lived with a chronic pain condition for decades and it's so important for me to feel as incredible as I possibly can and do whatever it takes to feel good daily, not just physically, but on every level. The last 18 months I've set the intention to heal and I've managed to make some pretty huge diet and lifestyle changes. I plan on sharing any and all healing modalities and therapies that have helped bring an overall wholeness, integration, and what I can best describe as that sense of being alive back into my daily life.  
Oh and I'm finally building a wardrobe I love after losing 40 pounds so yea, we gonna talk about that too. 
"Do not stop thinking of life as an adventure. You have no security unless you can live bravely, excitingly, imaginatively; unless you can choose a challenge instead of competence." 

– Eleanor Roosevelt
Think of me as your new go-to girlfriend walking alongside you to make this life as beautiful and amazing as it can be. You can follow more of my adventures here on Instagram and Youtube.
I took my first international trip at age six with my mom to visit her friend Judy in Paris, France. I've since been back to Paris more than half a dozen times and one of my dreams is to host a luxury European adventure with friends. Travel club!


If there's an empty spot on my calendar on a Friday night it's getting filled by Dateline or 48Hr Mystery. If loving true crime is wrong, I don't wanna be right.


I can't resist anything leopard print. It's a neutral as far as I'm concerned. I plan on dressing head-to-toe leopard in my eighties…maybe sooner.


My friend and I met Oprah once. After an hour of waiting backstage, we agreed if she didn't arrive by 11:11 pm we would take it as a sign and head home. We got a photo with Lady O holding up the number one for some reason (magic) at I'm sure you can guess what time, 11:11.


I love musical theatre! I auditioned and got callbacks for Rent and Aida when living in NYC. Some of my faves are Hamilton, Wicked, Dear Evan Hansen, and Legally Blonde.


My favorite movie growing up was Teen Witch which has now become a cult classic. If you haven't seen it at least google the rap scene. I truly love this movie in a non-ironic way. 


If you want to more about when, where, what, why I started this blog go here.