If glowing skin is on your list of burning desires then look no further, glowing skin shall be yours.
Follow this routine for just two weeks and people will stop you in the street begging to know your glowing skin secrets.
And you'll laugh, look at that imaginary camera, and say "what secrets?".
This post is all about how to get glowing skin in 2 weeks.
First up, here are the products you'll need to get your super glow on.
One oil-based cleanser
One water-based cleanser
An exfoliant or peel
A serum with vitamin C
A sunscreen & moisturizer
How To Get Glowing Skin In 2 Weeks
Step One: Double Cleansing
So this is your first step to glowing skin and it can't be skipped. You must double cleanse. This is basically a fancy way of saying, wash your face twice.
Your first two products will be used in this step.
You'll want to look for a cleansing oil or balm as your first product. Like attracts like and an oil-based cleanser will grab excess oil, dirt, sunscreen or any makeup that needs to be removed from your skin.
I rarely wear makeup and I still don't skip this step
Here's what I've been using with stellar results.
Next up in the double cleanse is your water-based cleanser. For this one we want to use a product that is going to give us that extra glowy glow so we're looking for something to slough away dead skin.
I have dry skin with some hyperpigmentation so I use a gentle daily exfoliator by Dermalogica at night and this soy-based gel-like cleanser during the day.
You can always start with the mini version of most of these products.
Two weeks gives you enough time to start noticing changes in your skin.
Step Two: Daily Exfoliation or Peel
So by now you're probably starting to notice a trend. We washed, washed and now we are going to wash again! Well, sorta. You really just need a product to deliver some level of peel or exfoliation.
If you decide to do a gel-based cleanser in your double cleanse then go ahead and use an exfoliating product in this step. If you decide to use an exfoliating product in your double cleanse then use a peel.
This is the daily peel I use and love. It's on the pricier side so a little secret is to cut the pads in half and store in a tiny zip lock baggy. You just doubled the product, woohoo!
Optional. I use this TLC Babyfacial once a week. I got a sample of this at Sephora and noticed a difference in my skin's texture after ONE use, it's that good!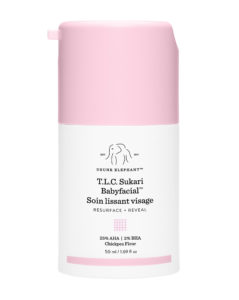 Step Three: Serum With Vitamin C
This is all building on one another so beautifully. I'm getting excited for you and your face. Your mission to get glowing skin in 2 weeks is at the halfway mark. Vitamin C is a supes important ingredient in brightening skin and serums are basically packed full of antioxidants and other amazing ingredients.
Even if you feel like you've done this before, the cleansing and exfoliating we've done up to this point make the products 100x's more effective.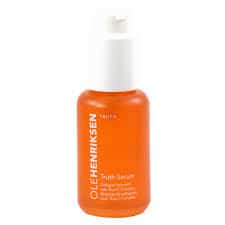 Also…you must use your serum before moisturizing. Thems the rules!
Step Four: Sunscreen or Moisturizer
The grand finale! At this point on day one you will already notice the difference in your skin's feel and texture I'm not even kidding.
Take a picture and then circle back in 14 days and you will see how much your skin has improved.
Plop on a moisturizer to seal in all the work you've done or you can simply use a moisturizing sunscreen.
I can not recommend a sunscreen more than this one. The name does not lie… It WORKS!! It gives a subtle glow to your skin and is perfect for days you don't want to wear foundation.
If you are doing this routine in the P.M, here's the moisturizer I recommend. It's an overnight transformer to get glowing skin fast.
Well, there you have it all!
Everything you need to know about how to get glowing skin in 2 weeks!
Oh, and it goes without saying to drink your water and think happy thoughts because both increase that inner/outer glow.
Here's a free checklist for you to organize your skincare regime: How To Get Glowing Skin In 2 Weeks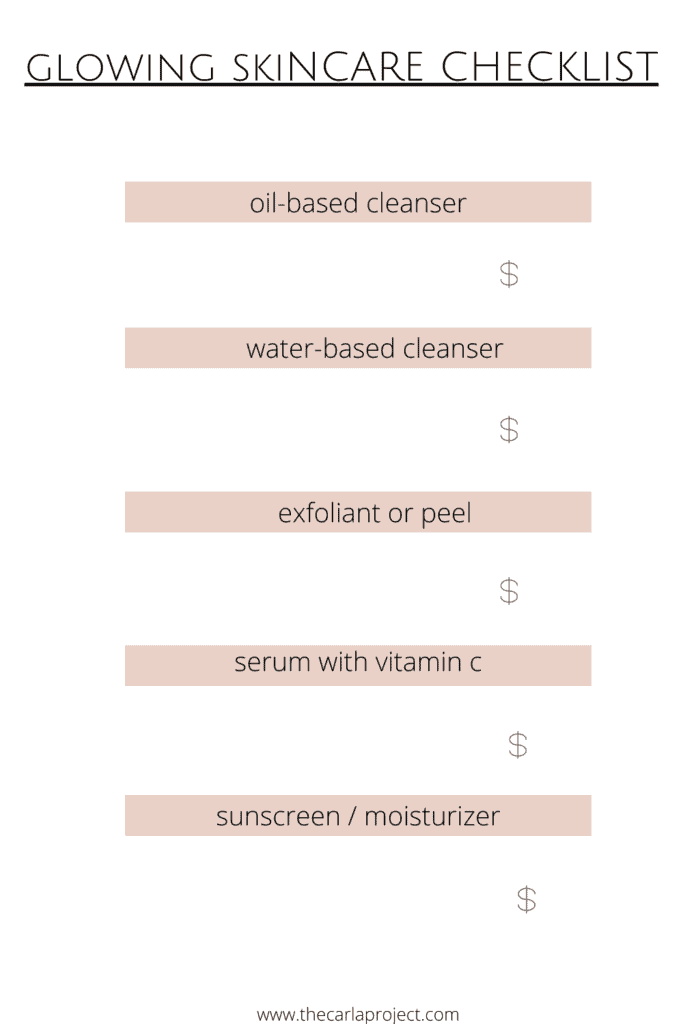 This post is all about how to get glowing skin in 2 weeks.
This post contains affiliate links. If you make a purchase, I may earn a small commission.